Unique hotels in the middle of the desert, one larger and more fantastic than the next, wedding chapels, casinos and the place to see major star performances: that's Las Vegas!

And although temperatures often reach 40°C, the atmosphere at the poker tables is frequently much hotter.

Raise, dealer, blind, check - terms that cannot be ignored and you should know what they mean if you want to win this fantastic trip!

And this is what's on offer for you:
A flight for two from Europe to Las Vegas, transfer from the airport to the desert city and three nights in the magnificent MGM Grand Hotel worth 3,000.00 Euros.

And how can you get your hands on this trip of a lifetime?
You can register for our current Texas Hold'Em tournament free of charge at any online Silverball terminal.

Show the others that you're a genuine poker professional, gain game experience and outplay your opponents. Be they human or computerized - you should always proceed strategically. Bluffing may also prove profitable from time to time.

The current Texas Hold'Em tournament ends on 23 December 2007.

So join the hottest competition this winter, take up the challenge and fly to Las Vegas!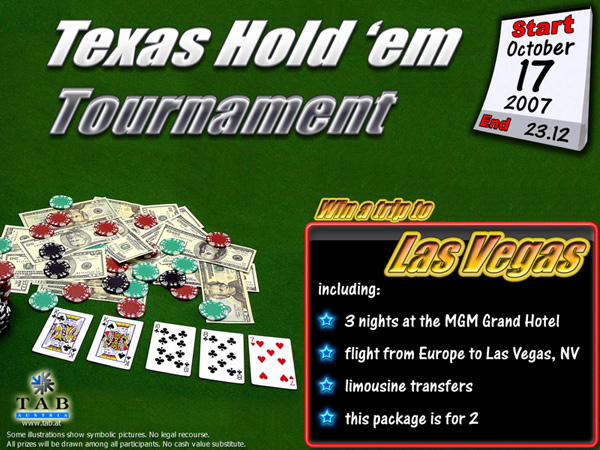 <<Back